Hotel Summer Land 4*, Socotra, Hadibo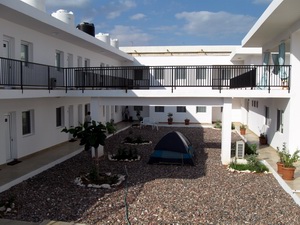 It is the first 3-4* level hotel (unfortunately, without a swimming pool) established on the island.
The hotel offers comfortable air-conditioned rooms with a WC-and-bathroom unit and properly running hot water.
You can have dinner and supper at a restaurant where you won't be bothered by goats.
The hotel prices are rather high (about 100$ for DBL), but it is a good bargain for those who got used to comfort and service and do not want to sleep in tents.
So, now you can make your travel to Socotra as comfortable as possible.
We develop individual tours around the island accompanied by the best English speaking guides of Socotra who will show you the island in daylight time and bring you to your hotel in Hadiboh for overnight stay.
Book a room in the Summer Land Hotel, Hadibo, Socotra