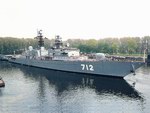 In the Soviet Union times the island was well-known primarily to our military men. The name of the island was often mentioned in the Western media when there was raised an uproar over "Soviet Union's military presence" in the Red Sea and Horn of Africa Regions. Today also many people, both in Russia and abroad, believe that Socotra was a place where an important Soviet military base was developed like it was in Berbera, on the northern coast of Somali.
Leaving Berbera in 1977 the Soviet Union lost its big port equipped with a mooring, an important communication center, which was eventually transferred to Aden suburbs in the then existing South Yemen, a tracker station, a tactical missile warehouse, as well as a big fuel storage and accommodation facilities for one thousand fifty people. However, since before in relations between the Soviet Union and Somali had been broken off, Soviet military ships preferred rather to anchor off Yemeni Island Socotra's coast than in the Berbera port. At that Socotra had neither a port nor a mooring. It did not have any warehouses and beach installations, any Soviet airdromes or communication centers or something like that. Nevertheless, in February 1976 the American Intelligence service noted that "Though Soviet combatant ships have a base to stay in Berbera, most of them can be seen not far from Socotra Island at the entry in Gulf of Aden and this practice is apparently going to be continued." Indeed, it was even after the breach between the Soviet Union and Somali and the Soviet base had ceased to exist in Berbera.
However, according to Vladimir Agafonov, a military interpreter and Orientalist, who many times visited Socotra in a professional capacity in 1976-1980, the island has never been used as a naval, air force or rocket base by the Soviet Union. At that time big landing ships of the Soviet fleet assisted the government of South Yemen in supplying consumer goods to the island isolated from blessings of civilization.