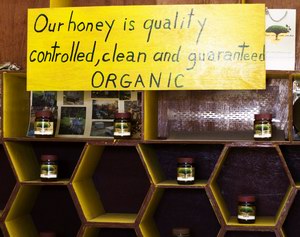 In 2007 the French Embassy in Yemen assisted in establishing a specialized natural honey center in Hadiboh, the biggest town on Socotra. He was called as the Honey Center attached to the Socotran beekeeping development and protection organization. The center engages two French experts and collaborates with 113 Socotran beekeepers.
According to Mr. Hokh Adham, Director of the Honey Center, they collect from 200 to 300 kg of honey during a rainy season and about 100 kg during other time-of-year. The Socotran beekeepers were given 1130 beehouses producing the unique honey.
The Center has special equipment required for definition of honey quality. It does not buy the honey not meeting the quality requirements or being produced outside the island.
The Center offers the following five well-known sorts of the natural Socotran honey:
Dragon Tree Honey,
Ziziphus Honey (ziziphus spina-Christi),
Aloe Honey,
Euphorbia Honey,
Highland Honey
Source: Soqotra.net