Socotran eels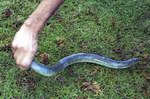 A small fresh water stream in Archer is a habitat of a big colony of eels.
The stream originates from the dunes and it is no more than 100 m long. However, it is full of eels that Socotrans do not regard as eatable (Muslims do not eat eels).
You can easily catch an eel with a piece of fish or meat. Just find a small creek and dip your bait into it. Eels have a good scent. Be patient and someone will certainly rise to the bite.
But there is no point to catch them. They are too bony and tasteless.