Over the mountain peaks to the south of Hadibo, the capital of Socotra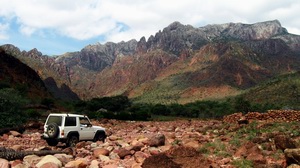 To come here by car, it is necessary to make a big detour from the plateau of Mumi.
Place here is quite populated. Small villages are located along small valleys with perennial rivers.
In one village, we bought a bag of ripe mangoes.
On the way back we drove through the red mountains on the plateau, Mumi, reached the highest point on the Archer and drive on top of a large cave (the entrance for cave explorers only), went back to Hadibo.
Places we really liked! Especially those living far from Hadibo (from here you can hardly walk for a light day) - they have several times stopped us on the road, inviting us to eat.
Quite a large collection of photographs taken in one day: