New trekking route in Socotra - On the edge of the lost world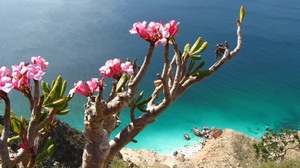 Wonderful views you can see from the edge of the plateau to the west of Socotra.

New trekking route starts from the village Qalansiya where you must take a guide.
Climbing up the mountain, and passed along the plateau for about an hour, you can reach the edge of a cliff. From this point you can see a remote part of Socotra, real "Lost world".
Halfway you will find the entrance to one of the caves. It is a hole 2 meter diameter, located in a local basin. Go down there without special equipment is impossible.
Walk takes full day, climbing a mountain is not difficult, but requires some physical training.

Many bottle trees growing on the edge, allow us to make great pictures: