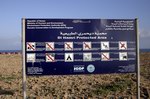 Indeed, within the framework of the Socotra Biodiversity Conservation and Sustainable Development project (1997 - 2008) there were established five natural ecological reserves:
Detwah seashore refuge,
Di Hamri marine conservation area,
Qadama reservation park (sea turtles),
Skant botanic reservation park,
Homhil botanic reservation park.
It is also worth mentioning Dixam area of outstanding natural beauty. It is a home to the unique forest of huge Dragon Trees, which is not even allowed to be approached by car.