Socotra's Seaport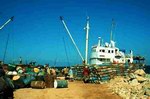 The seaport is a gateway to any island. The desolated pier located in a small bay on the northern coast of Socotra, which is constantly disrupted by storms, can hardly be regarded as the seaport. However, it serves as a berth for the ships supplying all the things needed for life to Socotra from Mukalla or Dubai. The commercial ships are made of wood and resemble old sailing vessels in their body shape. A few crashed ships lie on the shore. Some of them turned into small artificial reefs, a good place for fishing.
Even small waves prevent ships from unloading. One can often see some ships waiting for good weather in the bay. The products are usually unloaded to pallets by hand, at that loosely tied packs sometimes fall in water… The port is equipped with two truck crane, one of which is KRAZ made in the former Soviet Union.
This port is also used for supplying petrol and solar oil for Hadiboh's diesel power station that usually stops its operation from 6.00 a.m. to 9 a.m. (so, the guests of the hotels usually wake up very early because their air conditioners or fans stop operating).
Last autumn the pier was substantially destroyed by the storm. The government plans to construct a new port in the north-western part of the island. The old port area may be used for developing tourist infrastructure on Socotra.