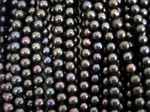 Socotra has been famous for pearl fishery since the earliest times. The fishermen living in the north coast villages were good divers.
The peak of pearl fishery fell on October, when the sea became smooth after summer monsoons. Divers used to fish pearl oysters from morning till dinner-hour. After having a rest they returned to their boats by 4 p.m. to carve pearls from shells. Usually these were small ones mainly of irregular form but very bright and of various colors: red, pink, golden, green, white, brown and black.
A big pearl of ideal form was found very rarely.