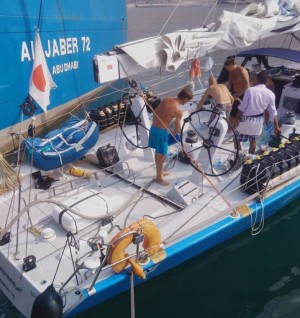 There are two news. One is good, the second is not very.
Last year, some yachtsmen who stopped at Socotra faced certain difficulties. Some of them were not allowed to go ashore. This was due to the presence on the island of soldiers from the Emirates and the tightening of the security regime.
This year, with the advent of the new governor and the withdrawal of the military from the Emirates from the island, the situation has changed for the better. All papers are issued to yachtsmen and tourist visas are issued for those who want to see the island.
However, some confusion remains with different authorities. The bad news is that clearance in Socotra has become more expensive. Now we have to pay extra money to two authorities - the coast guard and the security service.
Additional payment is about $115. Thus, the total amount of clearance on Socotra (including agency fees) is $345 now. A tourist visa costs $100 per person, which allows you to travel around Socotra without any problems accompanied by a local guide.
The boat Formidable 3, which made a short stop at Socotra in early December for fueling, watering and buying food, was the first to be faced with new requisitions from the security service and the coast guard.
We hope that the new government of Socotra soon sorted out with unauthorized extortion by security forces in the future the cost of registration of yachts will be as before.
It is possible that in this case it was the payment for urgency (yacht wanted to stay on Socotra only one day), and in the future we can avoid these costs, but the sailors, who plan to stay on Socotra, should be ready for such unplanned spending.
In any case, we will try to minimize your expenses on Socotra.