Montane Ascetics of Skant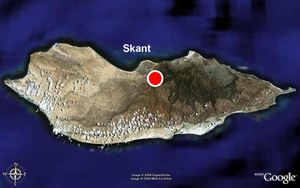 If you want to see a montane Socotrans' way of living we would recommend you to visit Skant mountain area.
You can get here by the same road leading to Dixam and Noget. After turning off to an earth-road and following it for about half an hour you will almost reach the peak of the mountain range that can be clearly seen from the airport and Ayaft Gorge. Leaving your car at a parking place you can take a walk to the edge of vertical cliffs to see numerous ruins of ancient constructions.
If you go a shade down you will find a few dwelling-houses where friendly and cheery people live. They will definitely offer you a cup of tee. If you want you can ask them to cook a goat. They usually stew and serve it with rice and sour goat milk.
It is a usual food of montane Socotrans.
Photos: