Sand Dunes in Archer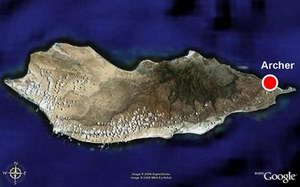 Archer is located on the north-east shore of Socotra. It takes 1,5 hours to get here by car from Hadiboh.
This place is a popular camping site between two big dunes. Before coming here tourists are usually taken to Erissel beach for swimming. It is also possible to bathe near camping. But we would recommend you to go 500 m to the right or to the left to avoid walking along rocky sea bottom opposite the stream or put on special swimming slippers.
The camping site has fresh water but a lack of shower and toilet rooms. So, you can take a natural bath in a fresh water stream. Other advantage of this camping site is that there are no local people. This means that you can make bonfires by burning wood fuel brought with you and to grill fish and potatoes.
Those who possess great physical strength and endurance may climb one of the dunes. Most tourists prefer climbing the right dune. But if you scramble up the second one you will be rewarded with a great unusual view. If you take cameras remember the risk of it being exposed to sand. And do not forget to take water– the route is much more difficult and longer than it seems to be.
This place is famous for its eel swarms. Locals do not eat them. So, if you explore grassed verges of the stream you will definitely see eels, some of which are up to 1,5 m long. Do not catch them! They are too bony and tasteless.
Please, do not litter in Archer! Before leaving the place burn all combustible refuse or collect and take it to Hadiboh. Though every year this place is cleaned by summer monsoons and water streams in November, please, try to make it cleaner than it was before your coming here.
Photos of Archer: