Fish Markets & Fishers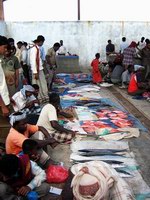 There is a big trading area not far from a fishing boats harbor. Today fishermen may deliver fish to sellers or put it in a cold store.
Though sale of fish became more civilized, they still cut it into pieces using big knife, pack in cellophane bags and sell in portions.
Living on Socotra for many months I tasted almost all species of fish sold on the market. Most of all I liked jackfish (a relatively small dark-colored fish with a yellow spinous tail), shark, barracuda, Brown Spotted Reef Cod (known as "hamur"), and some species of tuna fish.
It is also quite possible to catch herring in Shuab Bay and to salt it or marinate.