Socotra in the summer: Fishing from shore near the Hadibo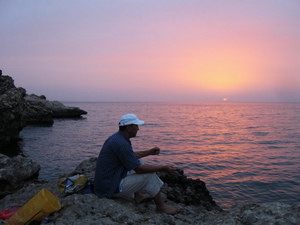 This year, the summer wind is not as strong as usual.
In Hadibo the wind blows from midnight till noon, there are days when the wind is weak or not at all.
This allows you to fish from the shore near Ras Karma (5 miles from Hadibo towards the airport).
It is well caught Baracuda, especially at full moon.
The line, sinker and a hook, bait and patience - all you need to do.
A few pictures taken from the place of fishing in recent times: