Detwah Lagoon - the main beach of Socotra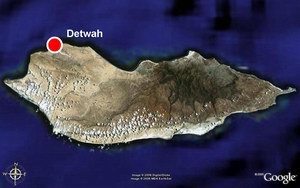 Detwah Lagoon is definitely one of the most impressive places on the island coast. There is a camping site with toilet and shower rooms, where you can stay overnight. Fresh water is also available for your use. Please, remember that camping owners do not offer cooking services. So, you have to cook by yourself or rely on your guides.
Qalansiyah is the best start point for seeing the lagoon. After driving through the village, your car goes up a low hill where you will be able enjoy an incredible overall view of the lagoon. Afterwards we would recommend you to go down to walk along the lagoon shore. A slow strolling at the seaside takes about 3 hours. Please, do not forget to protect yourself against the sun and to take drinking water. When walking on seawater look under your feet – there are many small cramp-fishes in the lagoon, which won't do you any harm but they are rather unpleasant in touching them especially by bear feet.
After walking, you can come back to the camping where a car will be waiting for you.
Photos of Detwah: