From the roof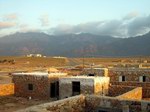 On Socotra it is not easy to find a good home fit for habitation.

This year it took us almost a month to look for such a dwelling. It was Ghanem who helped us to find a big house that was built not long ago and needed some finishing works to be done.

By Socotran standards, this is a big and comfortable house. It has 3 rooms, a large lounge, a separate building for a big kitchen and a bathroom.

A high fence, a small yard and no neighbors compensated for some minor inconveniences to which we got accustomed very quickly (for example, the kitchen is equipped with a water tap, but there is no a sink; the water tap is meant only for using as a source of water!).
Photos made from the roof of the house: