Dragon Tree in Dixam Plateau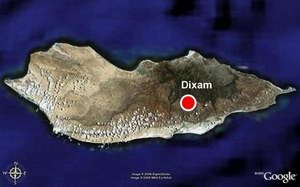 Dixam Plateau is located in the central part of Socotra. You will be lead here by a good asphalt road which you can follow to get to Noget – the south coast of the Island.
When leaving the main road, you will drive by a small village where you can buy Dragon's blood. It is the name used for a red resin obtained from Dragoon Trees. It is a good immunostimulant and wound-healthing remedy. In Ancient Rome gladiators smeared their bodies with the resin extracted from Dragoon Trees. It hastened healing of their wounds by reducing blood loss. It is considered that Dragon's blood has greater healing properties than well-known Mumiyo. Except the resin you can also buy here dried juice of the Socotran Aloe, frankincense and clay smoking jars.
After passing by the village we would recommend you to turn to the left to get to the verge of Socotra's most beautiful canyon - Wadi Dirhur. The best time to come here is late afternoon. Soft evening lighting makes surroundings to look fantastic. Tourists often use this place for camping. But we wouldn't advise you to stay here – it may be cold and windy at night. Local guides prefer camping not far from the village as they will most likely stay overnight there.
If you have time we would recommend you to walk down to the brink of the canyon and to turn to the right – you can find here the caves still inhabited by mountain shepherds.
Do the next stop near the wood of Dragon Trees. Try to find a blood-red clot of resin on the bark of a tree, climb its crown or just lay half an hour in its shade and enjoy the thought that you see an endemic that may be more than one thousand years old!
Photos of Dixam: