Sailing on Socotra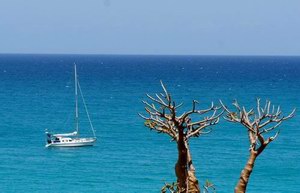 Our agency "Socotra Tamam" started working as an agent for sailors coming to Socotra island.
We arrange all the necessary documents on Socotra, help you to fill the boat with water and fuel, buy food, do your laundry.
It's better to inform us about your visit a few days in advance sending an e-mail to office@socotra.info
Ancorage place - 12°40.50 N - 54°04.44 E
Better to come in a day time. You have to wait aboard till sequirity come to the boat for custome and immigration control.
We advise you to read the report of the yacht Delta, where you will find detailed information about сruising on Socotra island.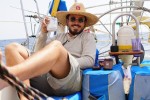 "Touching land countless faces smiling and all curious, who were these people. I announced: "I am happy to finally be back in Africa", to which they replied, "No no, this is the Middle East!" Awesome. Socotra tamam! Socotra good! An expression one quickly learns through osmosis as it is a common expression people often times ask you on the island of Socotra. Though this is a common Arabic expression, the local language Socotri is, as the name suggests, a local language whose roots is one step older than Arabic."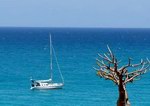 During February-March 2015 several sailing boats made a stop on Socotra.
Sailing boat "Delta" which is traveling around the world was the first boat coming to Socotra in recent years.