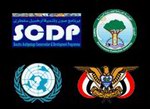 People from every corner of the world come to Socotra to enjoy an island of remarkable beauty and the astonishing plants and animals found nowhere else on Earth. Tourism here should be primarily understood as ecotourism; therefore, the guests of the Archipelago have travelling responsibilities and are obliged to observe rules of environmental behavior.
With support of the international community the Government of Yemen has committed itself to preserve Socotra's wild life and to ensure rational use of its national resources. For this purpose a Conservation Zoning Plan covering continental and coastal reserves was formalized through a Yemen Presidential Decree.
The Government of Yemen currently realizes the Socotra Conservation and Development Programme (SCDP) supported by Italian, Dutch and Polish governments, as well as by the Global Environment Fund (GEF) and the United Nations Office for Project Services (UNOPS) operating within the framework of the United Nations Development Programme (UNDP). We strongly recommend you to study the Socotra's Zoning Plan and the related rules and restrictions. You can get the relevant materials upon your arrival to Socotra.
The negative impacts of mass tourism on small islands, such as the Galapagos Islands, the Caribbean Sea Islands, the Canary Islands and Seychelles are well-known. Therefore, we should do our best to preserve the purity of Socotra's nature.
Due to a lack of a well-thought strategy in tourist development Socotra locals have various attitudes to guests coming from the mainland. As a rule they take them for:
a source of money (usually they lose their interest after getting some money);
a source of expenses, problems and embarrassments;
a source of troubles (for cattle grazing, environmental pollution);
a «nature exploiter» (getting plants, samples of rocks, fauna, fish and shells);
a stranger (Yemeni guides working on the island).
Regrettably the islanders practically do not have any benefits from the developing of tourism. However, tourists have a chance to contribute into protection of the environment by understanding the real value of Socotra's natural resources. You will be able to help the Socotrans to improve their way of living and to preserve their ethno-cultural uniqueness at the same time. You can also promote cross-cultural understanding between the islanders and the outside world.
Subject to the foregoing it is recommended to keep to the following rules of behavior:
Clothes
We wouldn't recommend men to wear over-knee shorts that will look like underwear. It is good to wear usual T-shirts and half sleeve shirts, summery trousers or long shorts. Women, as a rule, should wear clothes covering their legs from ankle and hands from wrist. Wide trousers are good enough. Please, try not to wear tight-fitting dress. It is recommended to have a shawl that can be used as a wraparound skirt when visiting settlements.
Rules of politeness
Etiquette and politeness are very critical aspects of social interaction for the Socotrans. It is very important to answer greetings, to greet unknown people even if you get tired and are not in the mood for greetings. The islanders will be disappointed to meet a bad-mannered person. Elderly people are highly respected. When paying a visit it is customary to greet them in the first place. Keep your emotions. You should not look narrowly at women, to start greeting them, to hold out a hand and etc. If you do not know what to do in a situation look what other people do.
Children and presents
Like all over the world you should not encourage children's beggary! Nevertheless, you can leave small useful presents such as pencils, pens, exercise books, paints or other things that may be of school children's interest at schools, mosques or hand over these presents to the leaders of local communities.
Greeting
Everybody who visited Socotra notice the islanders' generosity and politeness. In return they often consider us as nervous and impatient people. That is why it is important to take time when you greet or say good-bye to local people. Be polite and unhurried when shaking hands. It is good to behave the same way with children who also like saying hallo.
Guest manners and etiquette
You may be invited to a Socotran home. This may be a house, a hut, a cave or an area separated by stones. In any case you should respect it and its owner. Please, take off your shoes and leave then outside before entering a house. After going inside shake hands with persons present starting with elderly people. When sitting on the floor fold your legs under your body. Like everywhere in the Arab world, it is considered to be rude to show your heels. It is also not polite to refuse to drink tea. You can refuse another cup of tea by your head or hand gesture and saying "Shukran" (put the stress on the first syllable, means "thanks" in Arabic). The Socotrans often add goat milk to tea, but you can ask not to add anything to tea. You most likely will be invited to dinner. It is a hospitality tradition. However, please, remember that not all Socotrans are able to afford that. You can refuse having a meal or offer 500-1000 YR for a dinner. Even such small money is very essential for an ordinary Socotran family (for comparison – the cost of a sack of rice is about 5000 YR and do not forget that it is a hard work to get water and firewood). In any case you may advise with your guide on how to behave in this situation
Camping sites
Outside Hadiboh you can stay overnight in tents or village houses. Your local guide will take care of your accommodation and food. Please, do not put up your tents near local water sources. Your presence may embarrass women and girls delivering water for cattle. Keep the distance from mosques, constructions or fenced gardens. On the island there are a number of camping sites with shower and toilet rooms. These sites are usually located in conservation areas and have strict rules for visitors, which can be usually read at the entrance of camping sites. There are also many beautiful and comfort places for staying, which are not stipulated by standard programs. Here it is quite possible to make a fire using dead branches, brushwood or wood boards driven ashore.
Overnight accommodation in Hadiboh
On the island there are a few 2* hotels. All of them are located in Hadiboh. The rooms have no hot water supply. Even more, it is a usual practice to switch off electricity at 6:00 a.m. So, the guests of the hotels usually wake up because their air conditioners or fans stop operating. There also many mosquitoes that bother people at night.
When staying overnight in the hotels you have to have supper at local restaurants where cooks do not know how to cook fish or meat. Besides, you will be attacked by goats striving to steel a piece of bread or tissues from tables. There are practically no sights in Hadiboh. So you need not much time to see them.
Rubbish
Please, do not litter the nature! Collect all your rubbish in a big plastic bag and take it to Hadoboh. Do your best not to leave anything in the places of your overnight stay. Use matches or lighters to burn toilet paper or pocket pack tissues. As for food wastes, you can feed them to goats or birds who will look at you intently.
Photographing
Foreign people like taking pictures of the Socotrans. Please, do not do that without people's permission and do not take pictures of women.
Islam
It is necessary to remember that the Socotrans are very pious Muslims. If you travel by car, please, be aware that your driver or guide may stay for praying. They pray noon, afternoon, at sunset and at about 9:00 p.m., as well as at dawn. A prayer rarely takes more than a quarter. So, please, be patient and consider it to be a nice pause. The Socotrans respect Christians. So, you should not be afraid of unfriendly Islamites. No one will look awry at you if you wear a baptismal cross.
Souvenirs
You can buy frankincense, Dragon's Blood, clay smoking jars, wool woven carpets and honey from Socotran people. This will be your essential investment in local families' budget. Unlike continental Yemen islanders usually do not argue about prices. Keep small money if you plan to buy something. Sellers, especially children are usually not able to change 1000 YR. A handful of Dragon's Blood or frankincense costs at about 500 YR.
Tips
Tips are not customary on the island! So, always take your change in shops. Nevertheless, if you liked a trip or entertainment, or someone rendered any assistance to you, it is quite possible to make a present or offer to pay extra money.
Water
Most Socotra's regions are short of water. Please, take most of water you plan to consume during your travel to minimize the usage of the Socotrans' scarce water resources outside Hadiboh. You can buy bottled water and perfect natural juices in Hadiboh and Qalansiyah, as well as at the fuel station near the airport. Please, do not forget that most of fresh water basins that you will see on Socotra are the main sources of drinking-water for locals. So, try to avoid polluting them with soap, shampoo or toothpaste. It would be good to collect water in a tank before using it for washing. We also recommend you to have cleansing tissues with you.
Food, services
Hadiboh has local restaurants, shops and food stores. In Qalansiyah there are also a few shops.
In Hadiboh you can buy:
bottled water (it is not recommended to drink tap water);
soft drinks, various juices and cookies;
vegetables and fruits (supplied by airplanes and ships from time to time);
canned goods (tuna, beans, pineapples, peaches and etc.);
various sorts of bread from local bakeries;
banking services (money exchange);
long-distance and international telephony services;
Internet-café (but communication quality leaves much to be desired).
Weather & Clothes
In spite of the fact that the air temperature of Socotra does not usually go below +25ºC, there may be a great difference in day and night temperatures. It may be very hot in the sun far from the sea, but it may be rather cold on the beach at night even if the wind is light. So, do not forget to take warm clothing especially for sea trips. In view of possible intermittent rains on Socotra it is good to have a water-proof jacket. You can also use an Arab scarf for various purposes, which you can preliminarily buy in Sanaa. The same things will be most likely useful for you in Yemen where night air temperatures may fell down to +8 ºC in mountain areas. As for footwear, it is recommendable to have strong trekking sandals or light running shoes.
What to take with you
It is good to take walkable shoes, sunglasses, a headwear, a forehead diode flashlight, snorkeling equipment, binocular glasses or a telescope for watching birds, spare batteries or accumulators for your cameras. You do not have to take any tourist equipment if you plan to stay overnight in tens. All the necessary facilities (including tents, ground mats and etc.) will be provided by the inviting party.
Rules & Restrictions. Summary:

What to DO:
To make your travel more interesting, to learn as much as possible about geography, nature and ecology of the island, to get to know the Socotrans' customs and culture;
To make your strong contribution in preserving a unique, sensitive and vulnerable ecosystem of the island (please, do not forget to take all the litter to the Hadiboh's garbage dump);
To respect the locals' faith, prayer time and religious ceremonies on the whole, as well as human intercourse traditions especially if you are invited to someone's home;
To dress and behave in respect to local traditions; to be polite, calm and friendly.
What NOT to DO:
Not to disturb wild animals;
Not to spoil the natural habitat for plants;
Not to drink alcoholic beverages in public places;
Not to take photos of people and settlements without permission;
Not to litter;
Not to drive cars outside roads;
Not to disturb domestic animals;
Not to enter peoples' residential space without invitation;
Not to go in mosques and burial places;
Not to swim or wash in vital fresh water basins;
Not to hew trees (you can use only brushwood as a fuel for fire);
Not to collect flora and fauna samples;
Not to cause damage to corals and not to feed fish;
Not to approach birds' and turtles' breeding grounds;
Not to import and export any biological samples;
Not to collect "souvenirs" from historical and archaeological sites;
Not to collect and export shells from the island.