Socotra. Socotra. So-co-tra. Before taking a decision about going to this island I was looking through its photos, reading about it, tasting its name and trying to guess its smell. There was something tough and promising in its sound. Suddenly I realized that it has a sense of ADVENTURE that is so rarely met in our regulated tourist world of charters and guided tours.
Socotra offers prospects of the adventure as it should be – without any clear purpose, guides' chatter and sightseeing schedule. It has roads, but has not signposts. Nobody cares where you want to go – whether to the right or to the left. It's all the same, even for you.
To feel that sense of adventure I took an airplane to Sanaa from where a local airline brought me to Socotra. On my way here I met nice European tourists who can hardly be seen on 5* hotel beaches of Turkey or Egypt. So, I got into Socotra's airport and started looking around for signs of miracles. But there were not any of them. I was slightly disappointed but decided to arm myself with patience. Indeed, what miracles can be expected in an airport?
Soon I realized that I found myself in another world. It was a primitive world where weekdays and dates loose significance, where people do not have written language and, therefore, no man can ever deceive each other. And what is more impressive that they do not divide their lives into "the work" and "the private life".
I saw happy people and felt their keen interest to my person. I met many children and remembered that I do not have any because "I can not afford it for the time being". And suddenly I realized that I ceased to understand the meaning of this phrase. At this very moment I became aware of the needlessness of so many things surrounding us in our casual live and the uselessness of so much information acquired from mass media every day. I realized that most of our wishes are imposed by the army of marketologists and most of our fears do not have any intrinsic meaning. On the island I got a chance to be myself, to think myself and to answer for myself.
So, I set off on my travel looking forward to surprises. Indeed, everything I saw on my way differed from all my expectations. Then I decided to relax and get all my dreams about a sunny and palmy paradise out of my head. I was just looking around and Socotra was appearing to me in all its beauty little by little. It did not look like a paradise or a pearl and, what is more important, most of it was sunbeaten and resembled Mars planet covered with thin vegetation. It had a strange beauty that differed from that one I had seen on advertising photos. But it was fascinating and astonishing.
Here you never know what can happen to you after making the next turn. You may suddenly find yourself in a forest or on a desert multikilometer beach where footprints can only be left by you and sea crabs. You start burning with the desire to see as much as possible, to explore all caves and canyons or just to walk overshoe in water for a long time and try to avoid stepping on numerous skates.
When we bought live fish from fishermen, baked it in a foil and ate with hot bread I tried to remember when I had seen the ceremony of making bread last time.
When I harvested a red resin from Dragon Trees, the Socotran endemics, and spread it on my grazes I was surprised at its healing property. I was greedy for new impressions and was constantly looking for the new ones. But at some moment something had happened to me. I suddenly felt that I am absolutely happy being alone with nature, that there is no need to run anywhere to see the beauty as it is EVERYWHERE – any stone on the ground or any bottle tree is beautiful. So, I relaxed and started just leisurely enjoying my journey. This feeling of being conscious of self was unforgettable.
It is this feeling that makes my fellow countrymen, who had already seen the standard tourist places of Socotra, in answer to a question about whether do they like it here to smile confusedly and say – "Yes, we like it here" and after a pause – "One feels easy in one's mind here".
It is terrible to think that we have forgotten the feeling of endless opportunities of the world which were so obvious for us in our childhood. I do not know what is going to happen next, but I am sure that everything that I had seen and experienced here will remain in my heart for all my life.
Socotra. Socotra. So-cot-ra - the island of shepherds and fishermen. It is very sunny and windy. One never knows what he can find here round the next corner.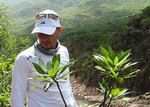 Kirill Nesterov. 2008