2-3* Hotels in Sana`a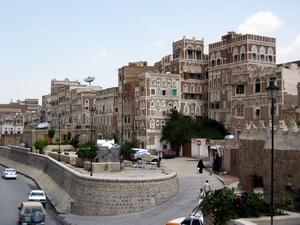 We consider hotels set in ancient buildings of the Old Town to be the most interesting and money-saving variants of accommodation in Sana'a.
All the hotels are of the same level. The only difference is their accessibility by car.

The hotels have their own restaurants. Breakfast is included in the price of your stay. Friendly staff is very helpful.

The hotels have a long-distance and international telephone, fax and Internet.

Simple but clean rooms of the same type differ in their appearance and size. There are rooms for one, two and three people. One floor has a few rooms. A rather steep stone staircase leads to upper floors, where you will be able to enjoy stunning views of the Old Town. The rooms are not equipped with air conditioners. (It is never hot in Sana'a. So, even in summer one sleeps under a blanket.) Each room has a separate bathroom.

Within 5 minutes of walk from the hotels there are the Old Market Square, the National Museum and other sights. If you cross the road and follow straight ahead you will find yourself in the lovely Tahrir area where you can buy fresh fruit and other products. Living in these inexpensive hotels, you can make the most of your time and feel deeply this most ancient city in the world.

Our favorite hotel is Arabia Felix.