Socotra »

Search for tags: wadi dirhur
Search for tags: wadi dirhur
After overnight stop in the canyon of Wadi Dirhur you can go for a walk through the primeval forest of Dragon Trees in the morning.
This season we have explored the lower part of Wadi Dirhur canyon – from Dixam camping site to the south coast of the island.
From Dixam Plateau we went down to Wadi Dirhur Canyon, where it is good to stay in tents overnight and to swim in natural pools before going on.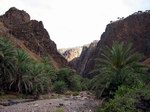 Passing by Dixam Plateau you can go down a steep earth-road to Wadi Dirhur Canyon, where you can have a swim in a small fresh water pool.
Теги записей